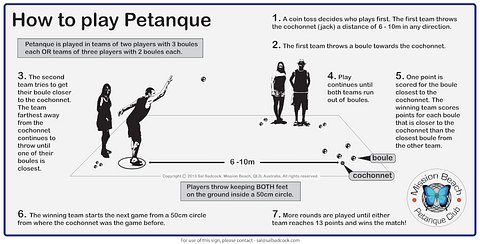 Follow these links for some interesting pétanque resources.
How to choose your boules click here
Coaching tips:
How to grip the boule - click here
How to apply spin - click here
Tactics - click here
UK Petanque Stores:
Obut UK - Click here
DC Petanque - Click here
PYC Petanque - Click here
(Inclusion of an external store link does not infer any affiliation or endorsement by Portchester Petanque Club.)
If you need clarification about rules please ask the umpire Mike Pegg by clicking here
A lot of people may be asking, what is pétanque?
Well the answer is that it is perhaps more commonly known in this country as the French game of Boules.
You will also be surprised to hear that there are 4 clubs in the Borough of Fareham. Portchester is one and is close to Portchester Community Centre in Portchester Park.
Our Club is one of the largest in the country and boasts several achievements in its past history over the last 25 odd years of its existence.
It's facilities are used regularly throughout the year as a means of bringing together people of all ages regardless of gender or level of competitiveness.
The club at Portchester was set up as a group activity to create a meeting place to pursue both Social and Sporting objectives, whilst playing the game. There are many who come down for a game just to meet others and have a chat and keep themselves active. In any large club you will always get those who want to be competitive and they are actively encouraged to play in local or regional leagues to meet their full potential.
OK, so what is the game?
Like the game of Bowls the objective is to get your Boule as close as possible to a Jack, with the player who is closest scoring a point for each of his Boule that are closer than the opponents closest boule.
Unlike Bowls the balls are made of metal, not wood and are thrown rather than rolled.
At present the club is keen to recruit new younger members who we see as an investment for the future.
Older people will be welcome and there are virtually no restrictions as to who can play but those with acute health problems may need to be assessed on arrival.
If any one out there is interested, please contact Nick Hall via the Community Assn. on 02392 210048.
Portchester Pétanque Club is affiliated to England Pétanque Association (EPA) and Southern Counties Pétanque Association (SCPA)
The SCPA has a special place in the history of petanque in the UK as it is at Samuel's Rest (formerly Sam's Hotel), Shedfield, near Wickham, Hampshire, that the British Petanque Association (the forerunner of the EPA) was founded.
The History of Pétanque